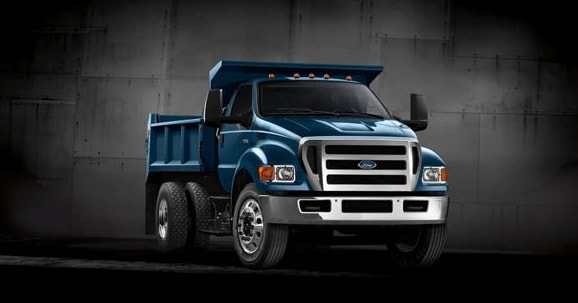 New 2015 Ford Dump Trucks Joliet,IL
Joliet, IL is home to a lot of construction and excavating companies. Do you know what helps them run? No, it's not coffee (but coffee helps). It's Ford F-series trucks. Freeway Ford is here to help the small businesses and fleets in the Joliet, IL area move what needs to be moved and haul what needs to be hauled with Ford F-series trucks.
Freeway Ford's Truck HQ is one of the few Ford dealerships capable of selling and upfitting Ford F-series trucks. No other Ford dealership is able to match the level of service that Freeway Ford is capable of providing to Joliet, IL.
Ford Power and Performance for Dump Trucks in Joliet, IL
Ford F-650 are some of the largest engines legally allowed on the streets of Joliet, IL. The Ford F-650 features two different engine options in the Joliet, IL area.
Cummins 6.7L I-6 TurboDiesel offers 200 horsepower
Ford 6.8L V10 delivers 362 horsepower
In addition to the two different engine options the Ford F-650 also gives Joliet, IL five different transmission options.
Allison 6-Speed Automatic is standard on diesel trucks
TorqShift 6-Speed Automatic is standard on gas
Allison 5-6 Speed on the 3000 Series
Fuller 6-Speed
Diana 7-Speed
Upfitting Available in Joliet, IL
Freeway Ford is also the premier destination in the Joliet, IL area for commercial upfitting. We're fully equipped to outfit your F-series with hydraulically powered open-box bed attached to the rear. Whether you're running a landscaping business or a construction site, Freeway Ford has the upfitting options that the Joliet, IL area needs to get to work. Our team has completed dump truck upfitting from 9' to 16'.
Freeway Ford is capable of other upfitting solutions as well.
Salt Spreaders
Hot and Cold Storage Units
Plow Truck Upfitting
Stake beds
Cargo Packages
Racks and Storage
Get Your Small Business Or Fleet Updated Today in Joliet, IL
It doesn't matter if you only need one truck for a small business or a fleet for a corporation, Freeway Ford is capable of supplying the Ford F-series and dump truck upfitting that the Joliet, IL area needs. Our dedicated sales team is prepared to answer any questions and help you find the best solution for you and your company. Freeway Ford has F-450's, F-550's, and F-650's, as well as other F-series trucks on our lot ready for test drive and ready for our dedicated service department to upfit for you today.
Contact Freeway Ford through our website, by phone or swing by our office in Lyons, IL during business hours for additional information.