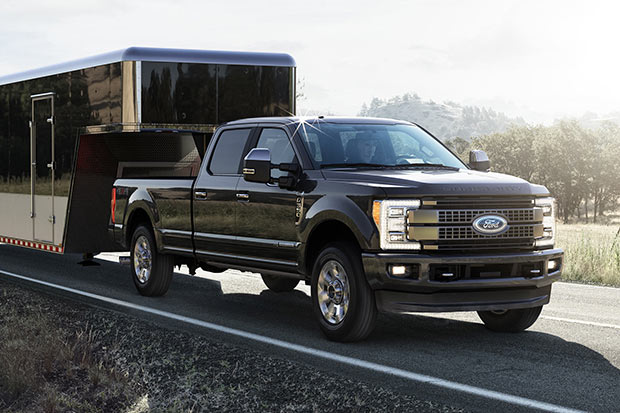 When you hook a trailer to your Ford F-350 or another Ford model, you want to have a high level of confidence when you hit the road. Ford offers that in abundance thanks to the active and integrated technology of Trailer Sway Control. Working in unison with Ford's AdvanceTrac system, this system will help reduce the impacts of trailer sway in your truck, SUV, or sedan. Take a closer look at how this system works with this guide form Freeway Ford.
How Does Trailer Sway Control Work?
Trailer Sway Control is an advanced feature that works in unison with a variety of other systems to help reduce sway on your trailer to help keep you safer on the road. The dual gyroscopic sensors in the AdvaceTrac with Roll Stability Control System (RSC) system are able to read turning rates and vehicle roll. Based on the information this system gathers and sends to the Trailer Sway Control system, the vehicle is able to keep control over the trailer by sending brake power and adjusting the amount of engine output sent to individual wheels to rebalance the weight.
What Can I Do to Prevent Trailer Sway?
The Trailer Sway Control System is a great deterrent against the negative effects of trailer sway. When your Trailer Sway Control System engages, this is a sign that you should slow down, pull to the side of the road, and adjust the weight distribution inside your trailer. After all, the Trailer Sway Control System is designed to reduce sway once it's detected—not to prevent it before it happens.
Which Vehicles are Offered with Trailer Sway Control?
Ford Trailer Sway Control is offered on a wide range of Ford vehicles, including:
Ford Escape
Ford Expedition
Ford Explorer
Ford F-150
Ford F-250
Ford F-350
Ford F-450
Ford F-550
Ford Fusion
Ford Fusion Energi
Ford Mustang
Ford Transit
Tow with Confidence When You Have Ford Trailer Sway Control
The folks at Freeway Ford are happy to help guide you through the benefits of Ford Trailer Sway Control. Get a full picture of what this feature can do for you at our dealership, located at 8445 W. 45th St. in Lyons, IL, or contact us for more information.