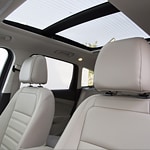 The Ford Escape comes with a variety of features that maximize the car's functionality. For instance, you can open the rear gate simply by tapping it with your foot. This can come in handy if you are carrying a bag of groceries or otherwise have your hands full as you approach your vehicle.
If you struggle with parallel parking, you will enjoy the park assist feature that is available on most trim levels. The car will find an available spot, alert you to put the vehicle in neutral, and maneuver the car for you until it is safely parked.
The interior of the Ford Escape is designed to make your commute to work or school as convenient as possible. It comes with multiple cupholders and a USB port to ensure that you'll always have a spot for your coffee and a phone that won't die before you get to the office.