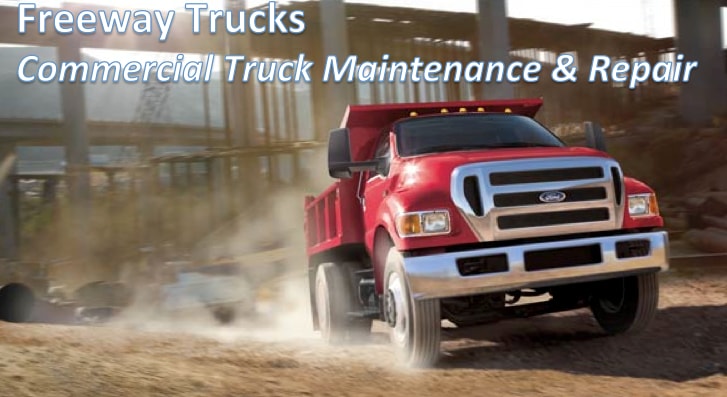 Commercial Truck Service and Repair in Chicago
Maintenance and repair are a huge consideration for the businesses in the Chicago area that rely on commercial trucks. The problem is that most businesses don't have the capital to employ an in-house truck service technician. Most businesses are forced to trust their vehicles to body shops and service centers that might not have the experience to properly maintain commercial trucks.
The good news is that there's another option when it comes to commercial truck service in the Chicago area. The dedicated commercial truck service center at Freeway Ford is available to offer their unique expertise and ability to the Chicago area. Our team has decades of combined knowledge when it comes to maintaining commercial trucks.
Commercial Truck Service and Repairs For Your Schedule
Whether your Chicago area business owns a Ford F-550 or a Sterling heavy-duty truck, the team at Freeway Ford is available to help with any maintenance needs you might have. From routine oil changes to engine repair, our team is dedicated to getting your business out of the service bay and back on the streets. Contact our team of certified technicians to get the maintenance and repairs that your commercial truck needs today.
Commercial Diesel Truck Available for Chicagoland
In addition to standard services available at our Ford commercial truck service center, we also have certified diesel technicians to service Chicago area commercial diesel trucks. Not just any guy at a body shop can open the hood of a diesel truck and start tinkering. It takes special certifications for a technician to service and repair diesel trucks, and our commercial truck service center is one of the few locations capable of handling diesel truck repairs. Get in contact with our diesel repair technicians today to get your commercial truck up and running again.
Any business looking for Cummins turbo diesel engine repair or a diesel oil change needs to get in touch with our team for diesel truck maintenance and repair.
Why Choose Freeway Ford?
Why choose Freeway Ford? Because our technicians at our Truck HQ are some of the best factory trained individuals you will find in the industry. In addition, our technicians are used to working on commercial vehicles, so they understand the urgency and different challenges that are associated with this type of work. Beyond the technicians, you will find only the finest parts from Ford Factory Certified options to specialized parts, including certified Caterpillar and Cummins Engine.
Our goal is your total satisfaction, when the job is done. We are Chicagolands only Ford Commercial Truck dealership, so we are prepared with technicians that can work on light, medium, and heavy duty trucks. These individuals are also Ford certified for Powerstroke Diesel Engines and have the knowledge required to service Sterling or any other heavy duty truck. You may visit our website to schedule a service appointment or contact us today. Regardless, we stand by our guarantee of complete satisfaction.
Set an appointment or inquire about additional services available by contacting our commercial truck service center through our website or by phone.