When choosing a new pickup truck to outfit a business or commercial fleet, there are several factors that must be taken into consideration. Does the truck offer the upfit capability that our company demands? Is it powerful enough to move equipment? Will it help us save on gas? Is it dependable? Two of the most popular options available to companies that rely on full-size pickup trucks are the 2016 Ford F-150 and Chevy Silverado. Both models have several benefits that commercial customers demand from a pickup truck, but there are several key differences that fleet managers and business owners need to be aware of.
For the purpose of this comparison, the 2016 Ford F-150 XL SuperCrew with a 6.5 ft. box will be compared to a 2016 Chevy Silverado Crew Cab Work Truck with a 6.5 ft. box.
2016 Ford F-150 vs. 2016 Chevy Silverado: Performance & Capability
Despite having a slightly smaller V8 engine, the 2016 Ford F-150 provides companies with greater towing capacity, hauling capacity, and fuel range. Tow or haul more for a longer period of time between stops for gas with the new Ford F-150. Key performance specs include:
| | | |
| --- | --- | --- |
| 2016 Ford F-150 | Vs. | 2016 Chevy Silverado |
| 5.0L V8 | Engine | 5.3L V8 |
| 385 HP | Horsepower | 355 HP |
| 387 ft.-lbs. | Torque | 383 ft.-lbs. |
| 4WD | Drivetrain | RWD |
| 756 miles | Fuel Range | 598 miles |
| 11,600 lbs. | Max Towing Capacity | 9,300 lbs. |
| 2,100 lbs. | Max Payload Capacity | 1,710 lbs. |
2016 Ford F-150 vs. 2016 Chevy Silverado: Technology
Does your company require advanced telematics and in-truck connectivity? The 2016 Ford F-150 comes with the SYNCⓇ system to provide drivers with hands-free calling, advanced telematics data, and voice-activated convenience from the dashboard. The new Chevy Silverado doesn't offer Chevy My Link with its Work Truck edition.
The new Ford F-150 also features an AM/FM stereo, 2.3-in. productivity screen, and multiple power points as standard features. The 2016 Silverado doesn't offer nearly the same number of tech extras as standard features.
2016 Ford F-150 vs. 2016 Chevy Silverado: Interior & Design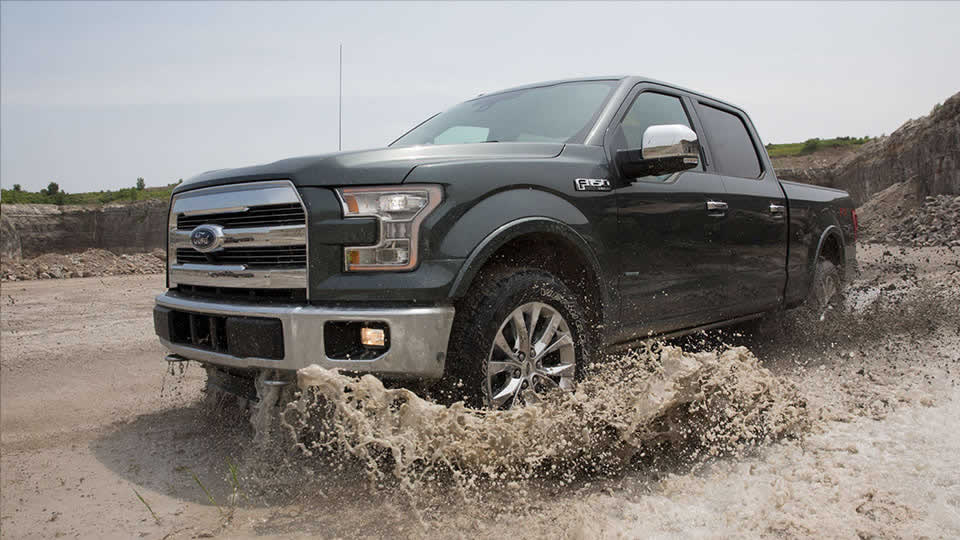 From the comfortable cloth seating to the advanced storage options, the new Ford F-150 delivers the functional design and interior features that are ideal for a mobile office. While both pickup trucks provide standard air conditioning and comfort features, the new F-150 stands out when the interior storage features are compared. The Ford pickup truck simply has more storage options and a more useful cabin layout than the Chevy Silverado.
With a starting MSRP at $39,520, the 2016 Ford F-150 comes at a slightly higher price point, than the 2016 Chevy Silverado and its $38,135 MSRP, but the difference in price is almost nonexistent when you consider the greater performance, technology, and functional design included to the Ford F-150.
Get in touch with the team at Freeway Trucks near Joliet, IL through our contact form or by phone at (888) 653-0810 to schedule a test drive or discuss your options with a product specialist.