Conquer Your Commercial Objectives
Ford trucks are bred to perform. The new Ford F-750 is no different. It's powerful and reliable, giving you peace of mind once added to your fleet. Regardless of your commercial objectives, the F-750 can help you achieve them and more. Shop for this impressive vehicle at Freeway Ford and let us show you what it means to be Built Ford Proud®.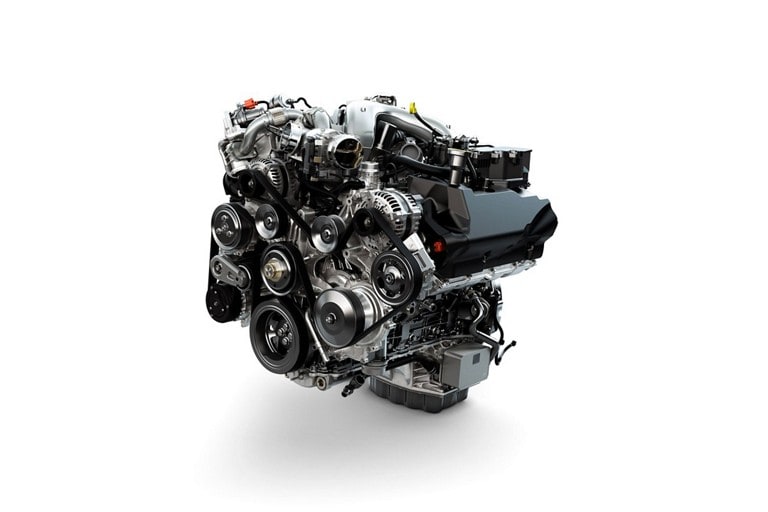 6.7L Power Stroke® V8 Turbo Diesel - 300 HP, 725 Lb.-Ft. of Torque
The 6.7L Power Stroke® V8 Turbo Diesel engine has a standard power rating of 270 hp/700 lb.-ft. of torque. You also have your choice of available 300 hp/725 lb.-ft. of torque and 330 hp/750 lb.-ft. of torque power ratings. * The 6.7L was tested to more than 500,000 simulated customer miles, which contributes to a B10 design life of more than half a million miles. ** The unique inverse-flow design locates the turbocharger between the cylinder heads and the top of the block, with the exhaust manifold inboard and close to the turbo, for faster air displacement and greater power. The driver-activated engine exhaust braking restricts exhaust flow to create back pressure for seamless braking and reduced brake wear on downhill grades.
*Horsepower and torque ratings are independent attributes and may not be achieved simultaneously.
**B10 design life based on the 330-hp output version and Ford engine dynamometer testing.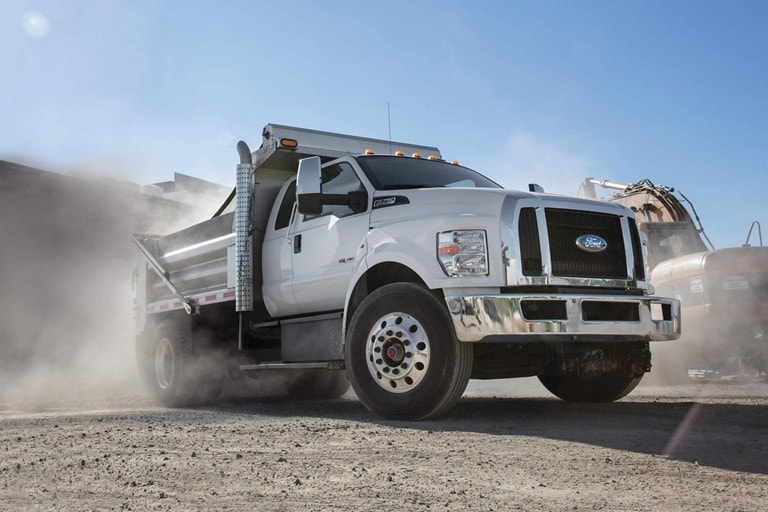 Ford TorqShift® HD 10-Speed Automatic - Double Overdrive
The new TorqShift® Heavy Duty 10-Speed transmission leverages the proven performance of the Super Duty 10-Speed TorqShift® transmission. It has design efficiency and upfit ease with the same chassis footprint as the TorqShift® HD-6-Speed Transmission. It offers smaller gear step ratios compared to the 6-speed transmission for more efficient, smooth operation without an RPM dropoff. It also has shorter first and reverse gear ratios for heavier applications on soft surfaces to get the vehicle moving even quicker in either forward or in reverse direction, compared to the 6-speed transmission.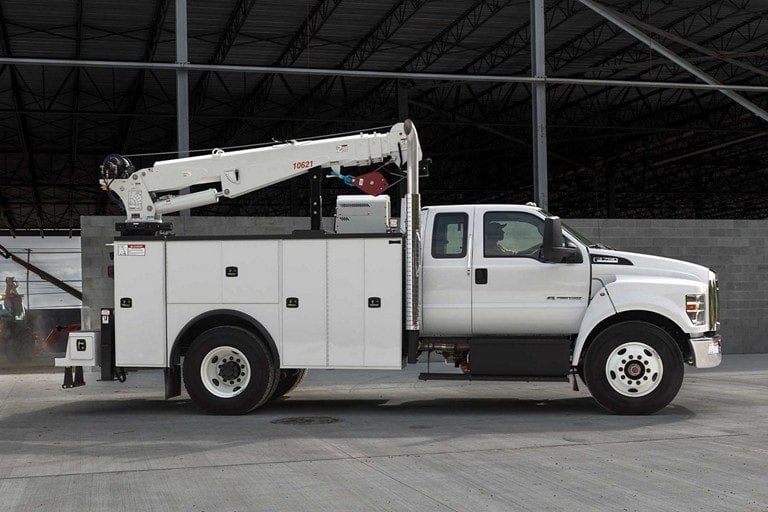 Operator-Commanded Regeneration (OCR)
Some operating conditions, such as long idling, don't generate enough engine heat for the diesel to automatically burn off soot in the diesel particulate filter. That's where available Operator-Commanded Regeneration with Active Inhibit comes in. When the warning light comes on, pushing the activation button raises the exhaust temperature to burn off the soot, after which the exhaust temperature reverts to normal. The Active Inhibit feature allows delay of regeneration when the vehicle is sitting in a safe location. Afterward, the driver can manually start the regeneration process. Recommended for commercial applications.
INSTRUMENT CLUSTER AND INSTRUMENT PANEL CENTER STACK
The Medium Duty instrument cluster and panel center stack are ergonomically designed for added driver convenience. The instrument cluster and panel center stack include a three-button message center, climate control module, added storage, traction control switch and hazard switch. Also included are an engine hour meter (in addition to the regular odometer) and a dual USB charge port.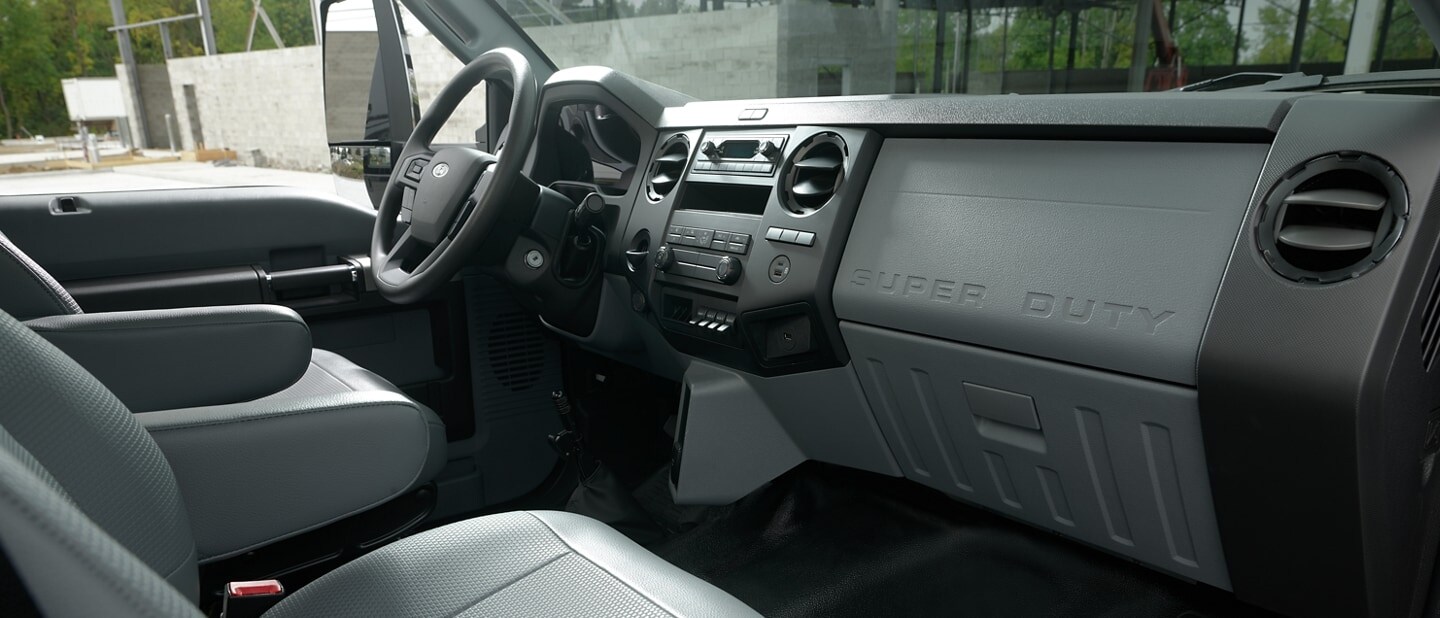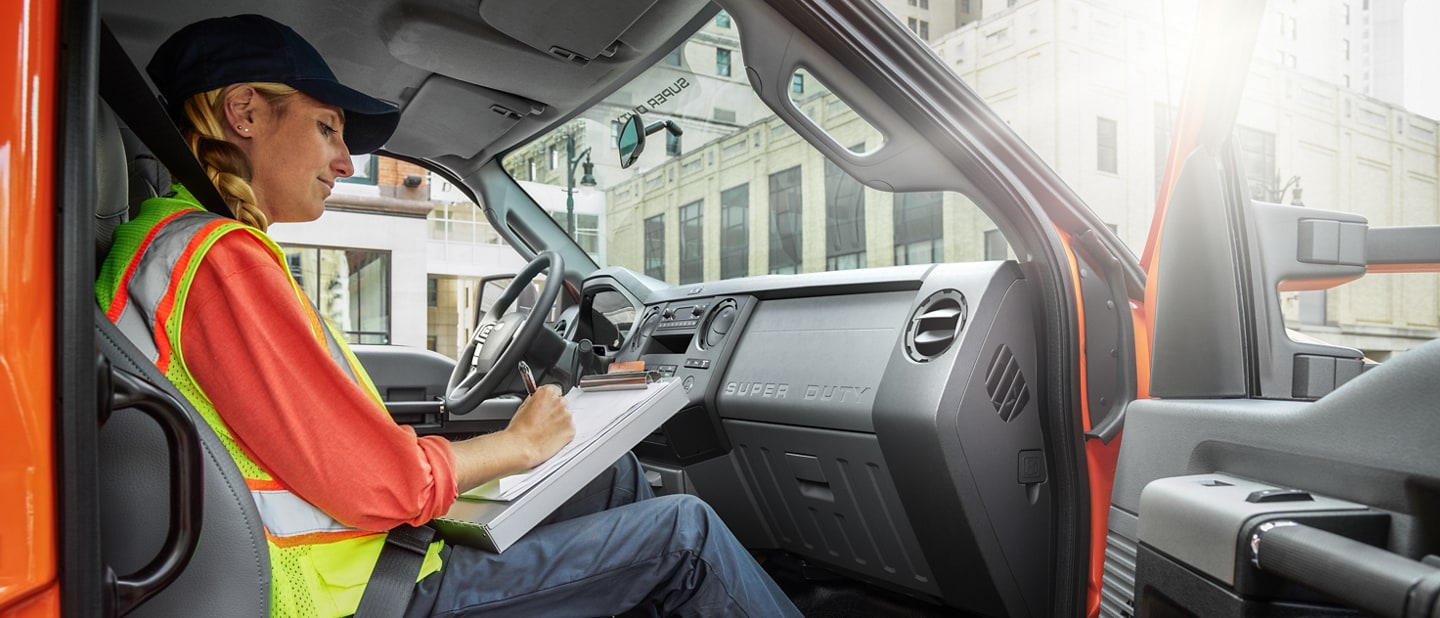 BUILT FORD TOUGH® FOR ALL-DAY COMFORT
Ford Medium Duty trucks aren't just built to work hard; they're built for comfort on jobs both large and small. The 2024 Ford Medium Duty interior is full of convenient features, such as an ergonomically designed steering wheel and instrument cluster, a tilt/telescoping steering column with audio controls and an upfitter interface module for quick control of your devices. Just because you work hard doesn't mean the hours you spend behind the wheel have to be hard too.
THREE QUIET CAB CONFIGURATIONS
F-650 and F-750 offer three Class 6-7 cab configurations: the two-door Regular Cab and 4-door SuperCab or Crew Cab - all with multiple seating configurations. Each is also designed to help reduce distracting outside noise so you can focus on the sounds important to you.
FORD TORQSHIFT® HEAVY-DUTY 6-SPEED AUTOMATIC TRANSMISSION
The Ford TorqShift® heavy-duty 6-speed automatic is specially designed with a three-plate/ two-stage torque converter, strengthened gearsets and extra pinion gears to handle the heavy demands of the 7.3L V8 gas engine. The SelectShift® feature has two modes: Progressive Range Select that limits the range of gears to lock out overdrive, plus full manual control. Another feature is Tow/Haul. On an uphill, it selects the gear that minimizes gear hunting; on a downhill, it prevents upshifting and increases in speed, reducing reliance on brake pressure to slow down. And the TorqShift offers available live-drive power take-off (PTO) provision with stationary and mobile modes.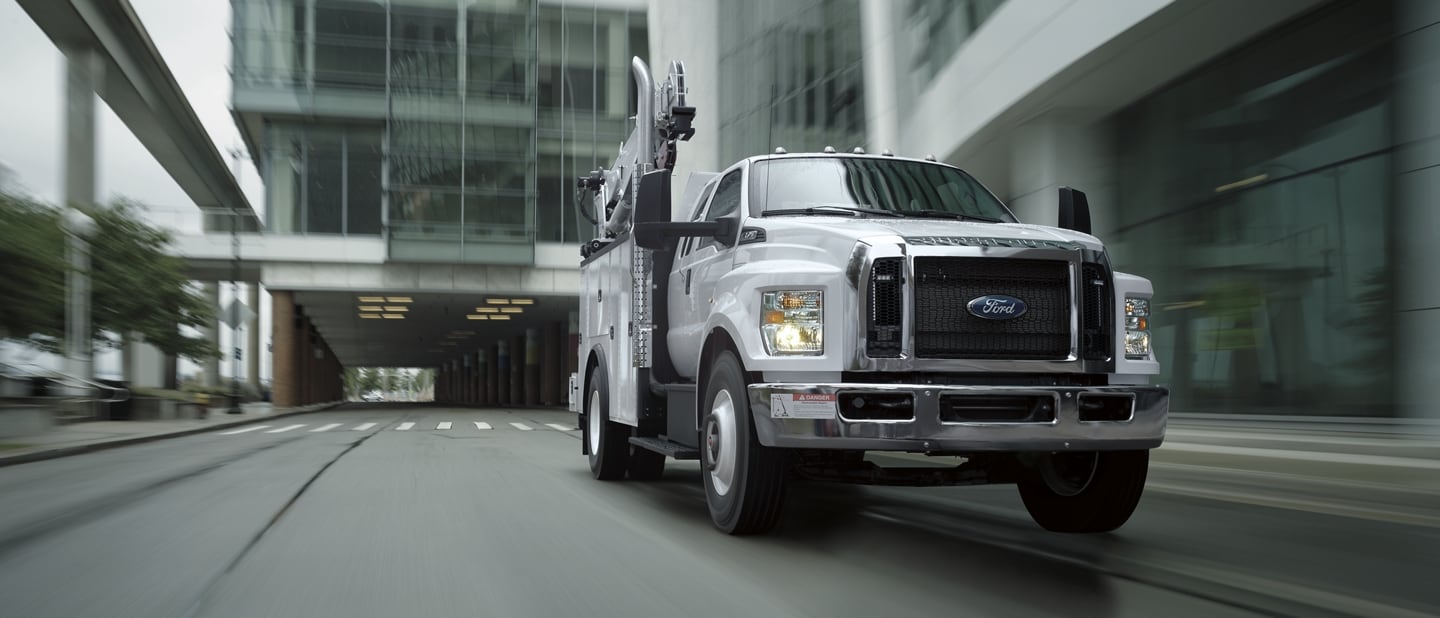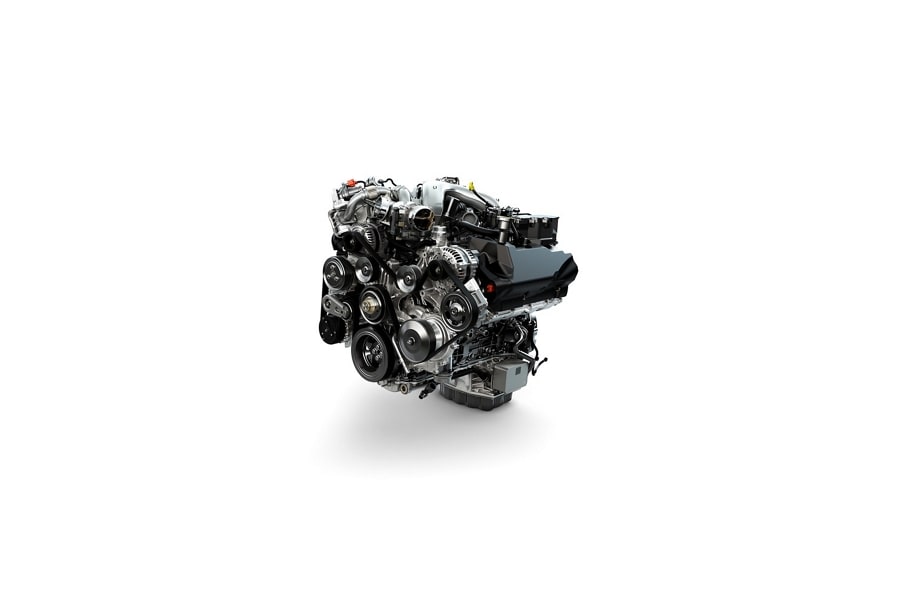 6.7L POWER STROKE® V8 TURBO DIESEL ENGINE
The 6.7-liter Power Stroke® V8 Turbo Diesel engine produces incredible power in two different stages. You'll always have the power of choice when adding the F-750 to your commercial fleet. Its standard performance includes 270 horsepower and 700 pound-feet of torque. Or, you can upgrade to 300 horsepower and 725 pound-feet of torque. The choice is yours.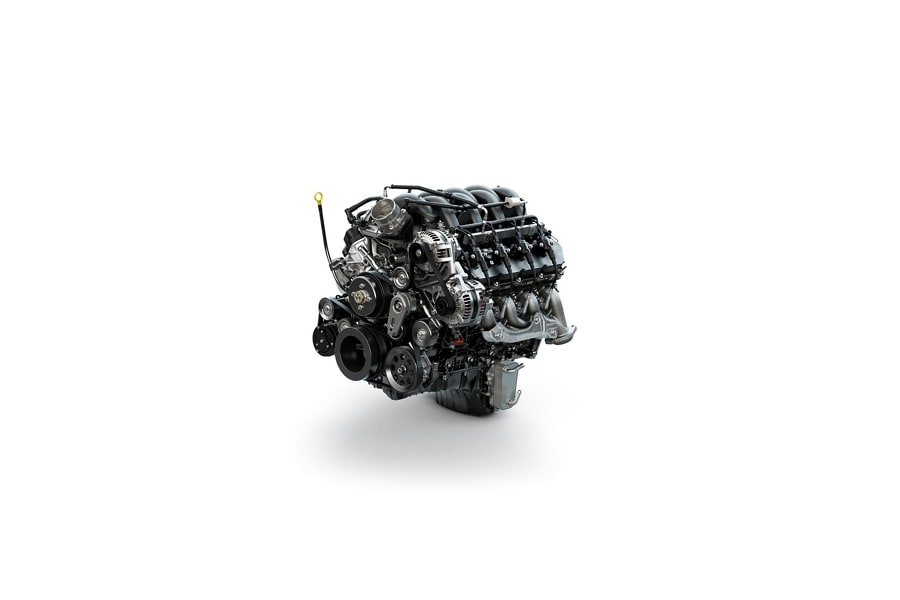 THE CLASS-EXCLUSIVE* 7.3L V8 GAS ENGINE
The Ford F-750 generates enough power to move mountains. Getting the biggest job done is simple with its various powertrain options. Our T class-exclusive 7.3-liter V8 gasoline engine provides 335 horsepower at 3,750 RPS and 468 pound-feet of torque at 3,750 RPM. By generating power at a lower engine rev range, the F-750 produces the power needed to get heavy loads moving sooner.
Contact Our Commercial Representatives for Financing Questions
Our commercial sales representatives are here to help make your shopping journey worry-free. Contact us online or call our dealership to find out all the ways we can help your business grow.
We look forward to serving you.